Our Bar Soap Donations Support Clean the World

Twincraft Skincare donates our bar soap waste from our Winooski, VT factory to Clean the World.
Soap finishing is a sustainable, environmentally conscious process, but there will always be extra material and soap that can't be reworked in to an existing bar soap project at our facility. Instead of sending this excess soap to a landfill, we donate it to Clean the World.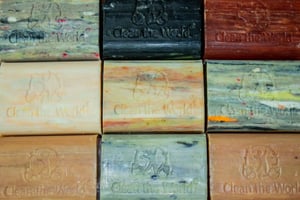 Clean the World is a social enterprise leading a Global Hygiene Revolution, distributing hygiene products and recycled soaps to families and children in countries with high death rates from infectious diseases. Since 2009, the organization has distributed more than 46 million bars of soap to individuals in 127 countries.
At a Clean the World facility, the soap that we donate, along with soaps from participating hotels and resorts, is sanitized, processed, and cut into new bars. The bars are then boxed and ready for distribution.