The goal of the Twincraft Skincare R&D team is to develop new product concepts in bar soap and skincare that is manufacturable, innovative, trend driven, and speaks to today's consumer.
We utilize all R&D tools both inside and outside the company to accomplish this goal. From an external perspective, we hold regular meetings with a wide variety of suppliers and consultants to ensure that we're using the best possible ingredients and staying abreast of industry trends and regulations. Our R&D team also travels the world to attend trade shows, visit other manufacturing facilities, and takes training seminars to ensure that we're leading the way in innovation in both bar soap and liquid skincare formulation. We focus on transparency and building strong business relationships to make sure that we're functioning at our best, with the best possible ingredients and equipment.
Internally, R&D functions off of a strong relationship with both our Sales and Marketing teams, ensuring that we can formulate and manufacture the products that we dream up as part of our Innovation process and sell to our customers. Our Director of Trend and Marketing Strategy is always filtering through the latest trend reports and market data to guide new product developments and make sure that we're formulating with trends and consumer expectations in mind.
Above all, our R&D team is there to support the many brands that we work with as a true partner. When we develop a new concept, we focus on sharing ideas to make the best possible prototype in our state-of-the-art development lab. We're open about the hurdles that we encounter during this process, and value transparency every step of the way in product development and manufacturing. We provide direct partnerships with our development team so that you can speak directly to our development personnel –we believe that this speeds up development timelines and builds confidence in our team as we approach the manufacturing stage.
R&D Innovation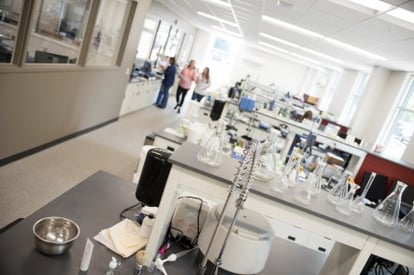 Twincraft is focused on proactive innovation and development – we firmly believe that it is our responsibility to bring on-trend concepts to our customers, rather than retroactively struggling to meet the unique concepts of a specific brand. Our Innovation team works with R&D to create new concepts in both bar soap and skincare on a quarterly basis, and we're always working to bring natural solutions to our customers.
Bar Soap R&D
Twincraft Skincare has been, and continues to be, a pioneer in the bar soap industry. Our teams have spent a lifetime researching, identifying, and developing innovative products to bring to the marketplace, such as our glow-in-the-dark bar soap.
Our customers know that if you're looking for a unique bar soap concept, whether it be in an aesthetic quality or ingredient usage, our bar soap innovation lab is the place to go for it. We have a large selection of bar soap bases that offer significant breadth or formulation versatility based on the varying ratios and types of oil used, and by combining old-world techniques, such as triple-milling, with modern, sophisticated, and surprising capabilities, we're able to yield the bar soap best suited for a specific brand that will differentiate itself in the marketplace.
Skincare R&D
While we don't have the same history in skincare development that we do in bar soap, we bring the same innovative spirit to our liquid development projects. We focus on understanding ingredient, texture, and packaging trends, and build our concepts and prototypes off of these guiding ideas.
We are experts at understanding and formulating to our customers' natural standards. While no two companies are 100% aligned with their definition of natural, we work with them to understand their priorities and flexibilities. From Certified Organic, to Whole Foods standards, to unique prohibited ingredient lists, our formulation team excels at adapting a concept to suit your needs.
In skincare, we offer two parallel development paths, which we've found best accommodate the variety of customers that we support, from large, established corporations, to smaller, natural-minded brands that may not have large initial volumes: the Base+ Development Path and the Custom Formulation Path.
Base+ Development Path
Our Innovation team develops quarterly concepts that provide products for our Base+ Development Path. These products span many categories, and include cleansers, masks, face and body moisturizers, serums, clinical treatments, baby products, and more. From traditional formulas, like body butters or gentle scrubs, to more innovative, trend-driven concepts, such as a self-foaming mask and an all-natural two-part peel off mask, this category has a solution for many brands at a variety of price points.
These formulas are all developed with a natural lens and our core formulation pillars in mind, which means that the majority of these products are already free of silicones, PEGs, parabens, and sulfates.
Custom Formulation Path
We offer custom formulation for the right business partners. This path often requires far longer development timelines and has more associated risk, because we don't have the same stability testing and manufacturing experience for truly custom formulations.
Want to learn more about our R&D team and which development path is right for your brand?